The Apple Watch Series 8 was released on September 16, 2022, which is the latest iteration of Apple's most popular smartwatch line. Additionally, Apple has announced a lot of things related to its most recent model and popular wearable series which you are going to learn in this comprehensive guide.  What advantages come from sporting a smartwatch? Your smartphone cannot aid you in all the ways that a smartwatch can. Tracking your sleep, heart rate, and activity to other fitness levels are the most helpful advantages. In addition, you can use it to play music, make purchases, and conduct the majority of other tasks.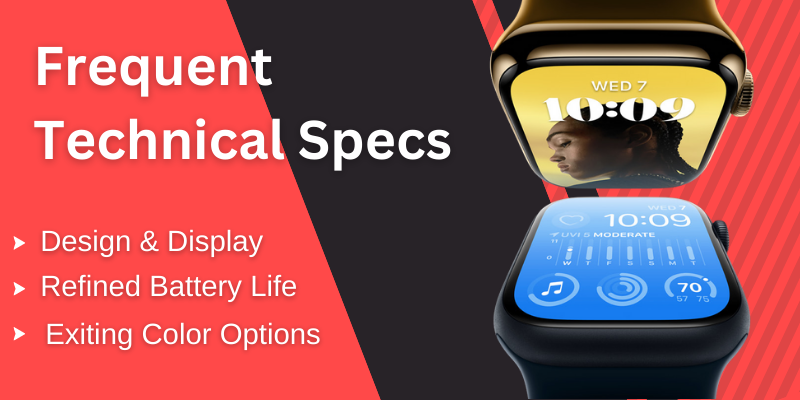 Apple Watch Series 8: Frequent Technical Specs
Let's get started by learning all the aspects in detail So that you have a clear understanding of the important areas of specifications while making your decision.
Design & Display
The Apple Watch Series 8 doesn't reinvent the wheel or have a circular shape, thus it has the same design and display as the previous model (series 7). That clearly means that this watch is available in both 41mm & 45mm sizes with an edge-to-edge Always-On Retina display feature with up to 1000 nits of brightness. Also, retains its Aluminum and Stainless Steel finish options with crack-resistant front crystal. Series 8 is also certified dust and water-resistant up to 50 meters with swim-proof capabilities. Since there are not many upgrades in displays and designs, your old band will also go well with the new wearable.
Refined Battery Life
Using the updated low-power mode, your Apple Watch Series 8 may run for up to 36 hours on a single charge. Moreover, the new low-power option will nonetheless subject you to some restrictions like select sensors and other functionalities will be turned off or restricted from being used.
Turning on Low Power Mode is perhaps the simplest way to conserve battery and double its life from 18 hours to 36 hours.
Apart from using "low-power mode", you can extend battery life by turning off various features. Here are a few more pointers to extend the battery life of your Apple Watch Series 8:
Turn off the "Always-On" display mode.
Reduce motion.
Turn off the heart rate monitor.
Turn off blood oxygen
Stop Activity Reminders
Turn off, Siri.
Turn on "Do Not Disturb"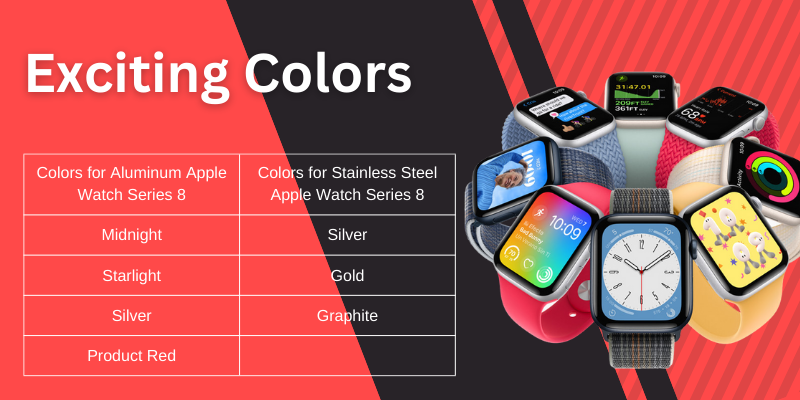 Existing Color Options
The Apple Watch Series 8 is available in two finishes which are aluminum and stainless steel. The table below lists the various cool color options available for each of them.
| | |
| --- | --- |
| Colors for Aluminum Apple Watch Series 8 | Colors for Stainless Steel Apple Watch Series 8 |
| Midnight | Silver |
| Starlight | Gold |
| Silver | Graphite |
| Product Red | |
Price
Witness the table below for the cost of the Apple Watch Series 8 in relation to its stainless steel and aluminum finishes.
| | | |
| --- | --- | --- |
| | 41mm (Size) | 45mm (Size) |
| Aluminum GPS | $399 | $429 |
| Aluminum GPS + Cellular | $499 | $529 |
| Stainless Steel GPS + Cellular | $699 | $749 |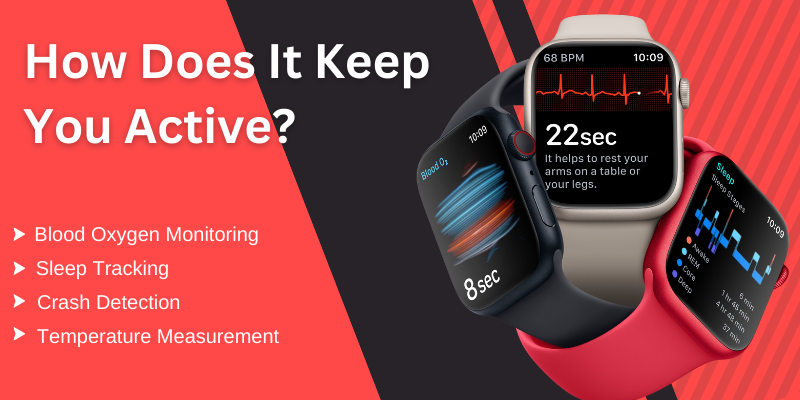 Apple Watch Series 8' Health Features: How Does It Keep You Active?
The Apple Watch Series 8 has notable health functions that can recognize low, high, and abnormal heart rates. In addition, delivering alerts when anomalies are found and monitoring for health issues like atrial fibrillation. Here's a quick view of the top-notch Apple Watch Series 8's health features:
1. Blood Oxygen Monitoring: Provides insights into your overall wellness!
The sensor on the back of the Apple Watch Series 8 helps enable the blood oxygen monitoring feature. Blood oxygen saturation in a healthy individual should range from 95 to 100 percent. When the blood oxygen level falls below a certain level, it may indicate a dangerous health problem that requires immediate attention. The Apple Watch Series 8 measures your blood oxygen from 70 to 100 percent.
2. Sleep Tracking: Help You Meet Your Sleep Goals!
The sleep app on the Apple Watch Series 8 makes it simple to monitor sleeping-related schedules. You may use the app to construct Wind time and bedtime plans that can help you achieve your sleep objectives. When you wear your Apple Watch to bed, it also automatically tracks your sleep. When you wake up, you can check the Sleep app to see how much sleep you had the previous night.
In short, the sleep tracking feature monitors when you are awake and when you are asleep. Also, let you know how much time you spent in the REM, Core, and Deep sleep stages.
3. Crash Detection: Making it a Life-Saving Machine!
The Apple Watch Series 8's crash detection feature, as its name suggests, can determine whether you are involved in a terrible accident. Immediately after that, this watch alert emergency services and your contacts. Apart from that, Apple created two additional motion sensors to increase the use of this feature by accurately detecting the specific forces involved in any dreadful accident.
The new high G-force accelerometer in the Apple Watch Series 8 captures data four times faster than the series 7 and can measure up to 256g of force.
4. Temperature Measurement: Helps In Menstrual Tracking
Apple added two new temperature sensors to the newly released Apple Watch Series 8. One sensor measures the temperature at your wrist and the other measures the ambient temperature in the air in order to cut down on outside bias.
The temperature sensor is generally used for depth apps, but its main purpose is related to women's health. Series 8 offers retrospective ovulation estimates that let them know when they might have ovulated to get better cycle tracking. Also, improves period predictions for those women who menstruate.
Why Is The Apple Watch Series 8 A Worthy Choice?
While recently released Apple Watch Series 8 and older Apple watches have similar essential functionality. The Apple Watch Ultra is the model to choose between these two gadgets if you enjoy severe sports or trekking. But what if you want a casual Apple smartwatch?
The Apple Watch Series 8 will be more adequate for the casual user. Additionally, it is more affordable than Apple Watch Ultra and provides a wider range of specs and color options. Consequently, purchasing an Apple Watch Series 8 for daily usage is a wise decision.
Apple Watch Series 8: Pros & Cons
| | |
| --- | --- |
| PROS | CONS |
| Charming new colors | Battery life might lack |
| Temperature sensor feature for menstrual tracking | Similar design to the series 7 |
| Car crash detection | Not affordable for most users |
| Low-power mode is helpful | |
Bottom Line
Making a sensible choice while buying an Apple smartwatch will be simple now that you are fully informed about the recently introduced Apple Watch Series 8. However, if you are unsure about your first option to buy an Apple watch, you can speak with an Apple professional, who will be able to advise you appropriately. Additionally, you may visit your local Apple service center if you have purchased it but are unsure how to use it.