How to Troubleshoot Canon Printer?
The brand Canon is well-known for producing high-quality professional cameras and printing equipment. It is still a machine, and machines can malfunction for a variety of reasons. Whether it's a basic printer for a student or a more advanced model for large businesses, both can experience technical problems.
This is the ultimate canon printer troubleshooting guide for all such issues associated with your printer. In addition, this will give you all-inclusive support so you can promptly solve all of your issues.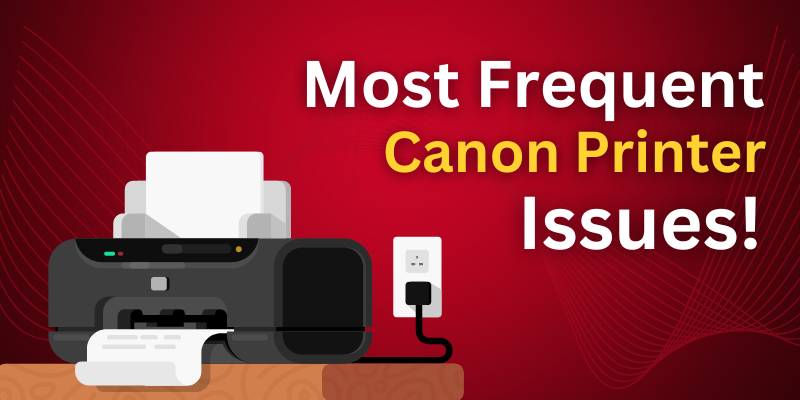 Most Frequent Canon Printer Issues with Tested Troubleshooting Solutions
Everything from your Canon printer being unresponsive to unclogging its paper jams, we will cover all the troubleshooting methods for all such issues. We will educate you about the appropriately tried and tested fixes to resolve all the issues associated with your printer.
Let us first start with the troubleshooting steps for the Canon printer not responding problem and then move on to the fixes for the other most frequent canon printing problems.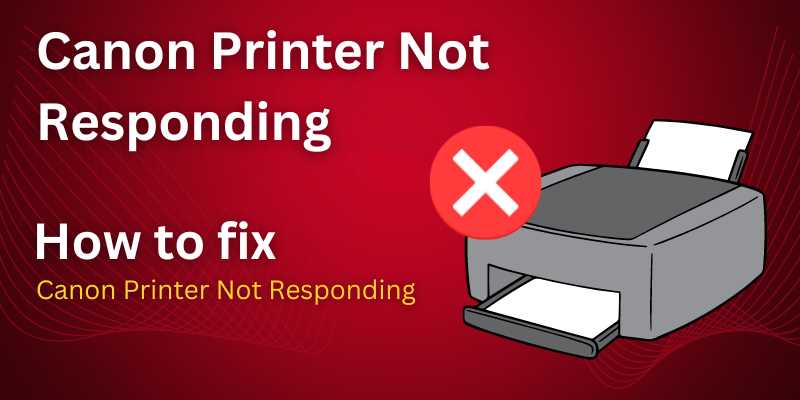 1. Canon Printer Not Responding
At the time of the "canon printer not responding" error, your canon printer may show its status as Offline. You won't be able to print or scan even when it's available online. In addition, it could become inactive throughout any task.
Causes
These could be a few causes for your Canon printer to display a "Canon Printer Not Responding" error and not respond to commands:
Improper Configuration
Connectivity issues
Driver-related problems
Unsupported or unwanted apps
Incorrect USB ports
Troubleshooting Steps For 'Canon Printer Not Printing Issue
Method 1: Disable the "Use Printer Offline" Feature
"Use printer offline" is a capability that comes with Windows computers. A user may discover their Canon printer to be unresponsive if this function is enabled. Disabling this functionality would be the best remedy for this issue. The "Canon printer not responding" problem can be fixed in the following manner.
Navigate to the "Start Menu" on your Windows computer.
Type in "Control Panel" and select it from the given results.
Select "Hardware and Sound" from the Control Panel.
Tap on "Devices and Printers"
In the "printers" catalog, right-click on your canon printer model.
Make sure the option of "Use Printer Offline" is not selected. (In case it has been selected, you have to uncheck this option.)
Tap on "printer"
Next, click on "Cancel all documents".
Try a test print as the last step.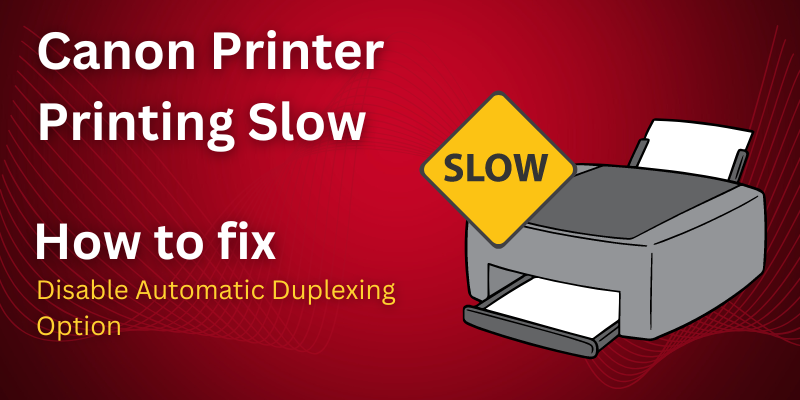 2. Canon Printer Printing Slow
Sometimes you feel your Canon printer could occasionally not print as quickly as it should. The slow printing speed cannot just affect your work but also irritates you. In order to improvise the speed of your canon printer, we have got the most effective solutions for you. Here are the top 3 troubleshooting methods you should try to fix this issue:
Causes
See the list of the most typical reasons for slow printing below.
Too many open apps
Outdated printer drivers
Damaged cables
Network traffic from remote offices
High-resolution Images
How to fix:
Method 1: Disable Automatic Duplexing Option
An automatic duplex option is an option that enables your canon printer to print on both sides of the paper. Disabling this option can ultimately resolve the problem of slow printing. Let's see the steps below to know how you can disable these options.
On your PC, navigate to "Canon Printer Property Settings"
Move to the "Device Setting" tab.
See the option "Allow Manual Duplexing" and uncheck it.
Click on the "OK" button to exit the setting.
Giving the print command as the last step will ensure that the printing speed is no longer slow.
Method 2: Undo the Printing process
This method will work for PIXMA printer models. In this process, you will require to undo the printing process and then give the print command again. Let's see what you need to do in this step:
Make sure all the cables of your printer are well-connected and turned on.
Next, on your Windows computer, go to "Control Panel."
Tap on "Devices and Printer."
Make sure that your Canon printer has been selected as the default printer option.
Right-click on your printer to navigate to "Properties"
Make sure that none of the ports is selected in "Properties."
Cancel all the printing tasks.
To resume all of the tasks you just stopped, execute the printing command once more.
Method 3: Restart Printer Spooler Service
If you are using a canon printer on a windows computer and facing slow printing speed, all you need to restart the printer spooler service to fix the issue. To restart this service on your Windows computer, you can follow the given steps:
Click on the "Start Menu" on your computer.
In the search box, type in "Service" and press enter key.
Click on "Services" (Desktop App)
Now, right-click on the "Print Spooler"
Select the "Restart" option.
Right-click on the "Print Spooler" again.
Tap "Properties"
Check to see if "Startup Type" is set to "Automatic"
Save all these settings by pressing the "Ok" button.
Restart your Windows computer
Confirm that your Canon printer is no longer printing slowly after it has been restarted.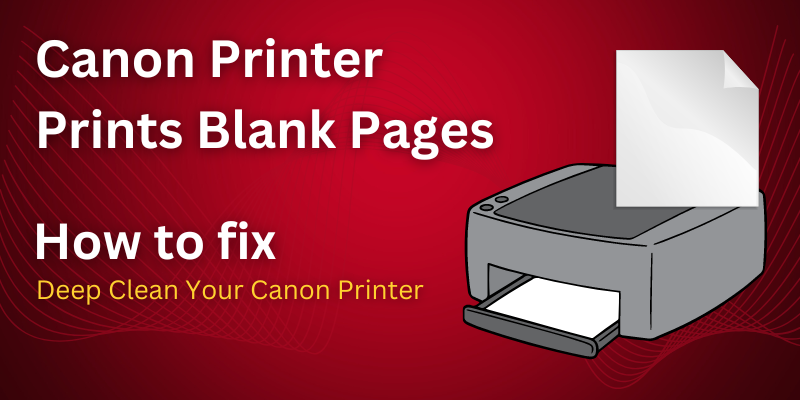 3. Canon Printer Prints Blank Pages
Undoubtedly, Canon printers are listed as one of the fast-performing printers. Sometimes though, "canon printer not printing anything on paper" errors display which means your printer starts printing blank pages or pages with blank lines.
Causes
Blockage of vacuum in your printer.
Corrupted software.
Improperly installed cartridge.
Defaulted hardware or printer driver.
Apart from all the above-mentioned reasons, your printer might start printing blank pages when dust enters the machine. Because of this, properly cleaning your Canon printer's interior will ensure that it does not print any blank pages. Learn the 2 troubleshooting methods below to resolve this issue quickly:
How to Fix
Method 1: Deep Clean Your Canon Printer
One of the ultimate solutions to get rid of this issue has been defined here which you may follow on your Windows computer. Let's check them out:
Open the "Control Panel" on your computer.
Go to the "Devices and Printer" option.
Right-click on your printer model.
Navigate to "properties"
Click "Device settings"
Tap on "Properties" again and then go to "Print Head"
Next, tap on "Services"
Choose the "Clean Print Head" option.
Select the "Deep Cleaning" option from the "Maintenance" tab.
When all the above process is done, print a test page to see if it gets printed normally.
Method 2: Unclog the Print Head
The First step is to turn your canon printer off.
Remove the cartridge with care, then set it down on a pristine surface.
After that, cleanly wipe the cartridge.
Reinstall the cartridge in the printer.
Lock the cartridge's access door.
Turn on your printer.
It's time to conclude the procedure by sending a print command.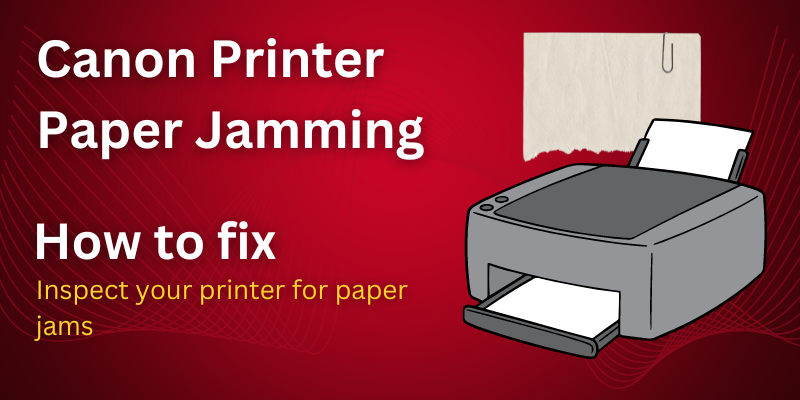 4. Canon Printer Paper Jamming
A lot of you may be annoyed and irritated with the most frequent issue with canon printers – Paper Jams! Paper jamming can be defined as the result of the range of issues associated with your canon printer. We'll show you how to inspect it so you can quickly fix this most typical Canon printer issue. Read on to learn the possible causes and two troubleshooting methods to fix it:
Causes
The following are possible reasons for paper jams on Canon printers:
Paper inserted incorrectly
Low-quality paper
Low-quality paper.
Damaged roller.
Misaligned print heads.
How to Fix:
Method 1: Inspect your printer for paper jams
Follow the steps below to learn how you can eliminate the jammed paper from your canon printer:
First, turn your printer off and remove it from the power plug.
After that, carefully remove the paper output cover.
Verify that the jammed paper is not positioned beneath the "FINE cartridge holder."
To remove the paper if it was stuck under the FINE cartridge holder, just slide the holder to the left or right side.
Use your hands to hold the paper that is stuck.
Now, carefully remove each piece of paper (one at a time) without damaging it.
Close the paper output cover.
Reload the paper again.
Method 2: Restart Your Printer
Sometimes your canon printer might encounter a paper jamming error on the screen even when there are no bits of jammed paper inside the machine. In such cases, restarting your printer may be helpful. The quick steps are mentioned below for canon printer troubleshooting paper jam:
Turn your printer off.
Remove the power plug.
Before turning it on again, you have to wait for a few minutes.
Now, plug in your printer and turn it on.
Print a test page to check if the issue is resolved.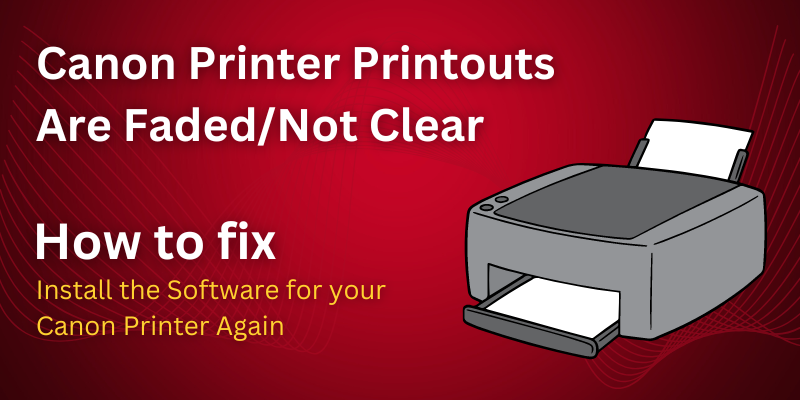 5. Canon Printer Printouts Are Faded/Not Clear
Whether you refer to it as smudged, fizzy, ruined, lined, jagged, or patched, if you use the printer to fulfill your printing needs after a very long time, you may likely experience blurred images. Have you ever looked at the root causes? Let's identify the most common causes of fizzy prints from your Canon printer.
Causes
Possible causes of fading or hazy prints on Canon printers include the following:
Print-head nozzles are clogged.
Misaligned Print-head.
Faulty printing software
The printer driver's Media Type setting is not identical to the actual paper type.
Improper paper thickness.
How to Fix
Method 1: Install the Software for your Canon Printer Again
Updating your canon printer software with the latest version is necessary if you don't want to deal with numerous printing-related issues. That is why installing the software again can be helpful in troubleshooting the flaws of unclear or faded printouts on your canon printers.
The procedures listed below will assist you in successfully installing the software:
On the keyboard of your Windows computer, press the "Windows" and "R" keys together.
When the "Run" dialog box appears, type in "devmgmt.msc" & click OK.
Find the printer driver for your device under "Print Queues."
Select the "Uninstall Device" option.
Now, download the latest version of the driver for your printer.
After downloading, install it.
At last, try to print a test page and check it prints accurately.
Additional Advice to Prevent Problems with Canon Printers
Now that you are aware of the reasons for the most common Canon printer problems as well as the appropriate fixes, we want you to adopt a few more preventive actions to take in order to avoid any Canon printer malfunctions.
The instructions listed below will help you maintain and take good care of your Canon printer:
Make sure the cartridge always has enough ink.
Try to purchase a new refill every time.
If you can't afford new refills every time, replace the old cartridge after four or five refills.
Always keep the internal parts of your printer clean.
Put the paper gently and appropriately on the tray.
When there is no paper in the tray, don't press the print button.
Avoid overloading the printer with lengthy work queues.
When you need to print countless documents, be patient.
If you adhere to the aforementioned instructions, it is less likely that you will experience any errors or issues with your printer.
Bottom Line
In this detailed guide, we have discussed a few canon printer troubleshooting methods that you can use to get fixed the issues associated with your printer. If the problem with your printer still persists & you are unable to troubleshoot it. All you need to do is to visit the Canon Printer Service Center Near You. This way, one of the trained technicians will assist you to get it fixed.
Read More:-
How Do I Setup My Canon Printer?
Canon Printer Error Code 5400
FAQs Of Canon Printer Troubleshoot
Q.1. How do I troubleshoot my Canon printer?
Ans. Try uninstalling and then reinstalling the Canon software that came with your printer to troubleshoot the Canon printer. Download the newest software and driver now. Launch the program, then select Properties > Clean Print Heads. Print a sample page.

Q.2. Why is my Canon printer not printing when the ink is full?
Ans. It's conceivable that the printer's ink supply isn't working properly. Make sure that all ink tanks are filled to the top with ink, then flush the ink.

Q.3. why has my Canon printer stopped working?
Ans. You might be using the incorrect printer driver or an outdated one, which will cause your printer to malfunction or perform poorly.

Q.4. How do you troubleshoot a printer problem?
Ans. Ensuring that the printer is turned on and connected to the same Wi-Fi network, Restarting the printer, and Setting the printer as the default printer.
Q.5.What are common printer problems?
Ans. The most common printer issues are Paper jams, slow performance, poor print quality, the printer won't print, and the printer is unresponsive.

Q.6. what are the troubleshooting steps?
Ans. Unplug the power cord > Leave it unplugged for a while > Save your work & Restart your computer > plug the printer's power cord back in > turn it on > try printing a test page.

Q.8.How do I reset my printer?
Ans. Select the "Setup" option on your canon printer > Navigate to "Device setting" via the arrow key > Press OK > Navigate to "Reset Settings" > Press OK > Look for the "Reset" option > select "OK."
Q.9.How do I reset my Canon Pixma printer?
Ans. Make sure your printer is on & connected to your PC > Press the 'Power' button to turn your printer off > Press the "Stop" button for 2 seconds > and Press the "Power" button for 2 seconds while pushing down on the "Stop" button > Release the "Stop" button > Press the "Stop" button five times while keeping the "Power" button pressed > Release the "Power" button.

Q.10. How do you unblock printer nozzles?
Ans. With some isopropyl alcohol and another run through the clean cycle, blocked nozzles can be cleaned. There are kits that clean the printer nozzles by forcing alcohol through them.

Q.11. How do I clean a blocked printer head?
Ans. Dried-up ink from inactivity causes clogged print heads, which can result in uneven or incorrect printing. The self-cleaning software that comes with your printer may usually clear blocked print heads.

Q.12. what does the orange flashing light mean on a Canon printer?
Ans. the orange flashing light on a Canon printer indicates that ink might run out.

Q.13. How do I fix the orange light on my Canon printer?
Ans. The first method to troubleshoot the orange light on the canon printer is to uninstall the drivers of your printer and then install them again. If you haven't replaced the ink cartridge in a while, inspect it and replace it as a second option for resolving the problem.

Q.14. Why does my printer not print?
Ans. To answer why your printer can't print properly could be due to simple things such as networking issues, low toner ink, or a paper jam.