How can I Clear Browser Cache On my Mac Laptop?
Too many Cached Files on your Mac can cause your browsing system to lag over time. Not clearing the Cache for a long time will Slow Down your Mac's Performance, or you may experience crashes or Application Errors.
Do you remember the time when you last cleared your cache from your MacBook? Cached files are stored in your browsing system whenever you browse the internet. Too many cached files can cause havoc on your operating system and gradually slow it down. Clearing your Mac periodically can make your computer run more efficiently and prevent you from using outdated information that your Mac collected when you first visited a site.
Read this article to learn more about cached files, browser cache, and how to clear browser cache on Mac laptops in Safari, Chrome, and Firefox.
If you have tried clearing your browsing history, you have most likely been prompted to clear "Cache." But do you know what a cache is and why you want to clean it? Here's everything you want to know about cache and cached data. Let us first understand what a cache is.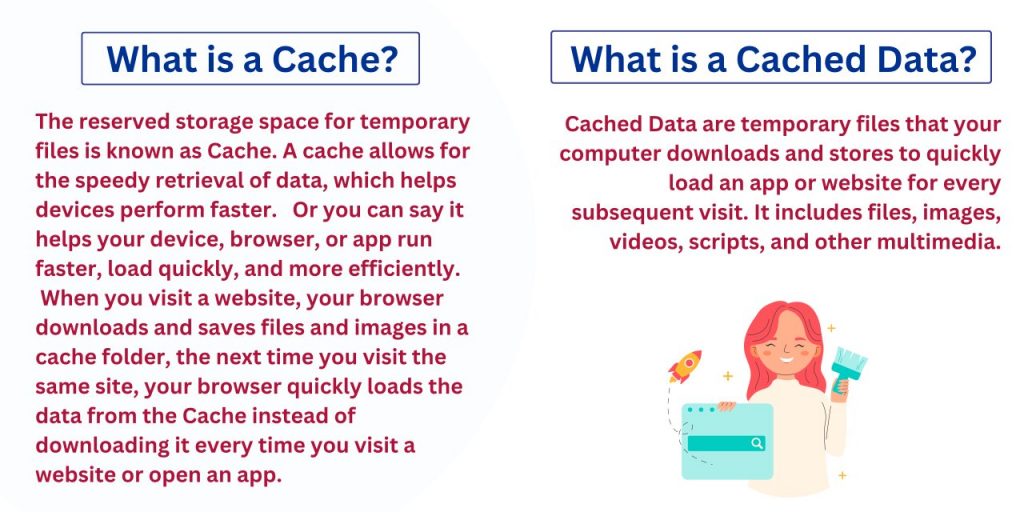 | | |
| --- | --- |
| What is a Cache? | What is a Cached Data? |
| The reserved storage space for temporary files is known as Cache. A cache allows for the speedy retrieval of data, which helps devices perform faster. Or you can say it helps your device, browser, or app run faster, load quickly, and more efficiently. When you visit a website, your browser downloads and saves files and images in a cache folder, the next time you visit the same site, your browser quickly loads the data from the Cache instead of downloading it every time you visit a website or open an app. | Cached Data are temporary files that your computer downloads and stores to quickly load an app or website for every subsequent visit. It includes files, images, videos, scripts, and other multimedia. |
What is Browser Cache?
There are three main types of caches: browser cache, system cache, and application cache or user cache. Every time you dabble on a website or use an app, your computer download and stores cache data in the temporary form to save time in the future.
Suppose you visit any website; your browser will download data, including files, images, scripts, videos, login credentials, or other multimedia, and saves them in a cache folder. The next time you visit the same site in future, your browser quickly loads the data from the cache rather than downloading again.
The LOGOS, PICTURES, BACKGROUNDS, HTML, CSS, AND JAVASCRIPT stored by your browser on your computer's hard drive when you visit a website is a Browser or Web Cache.
It prevents your computer device from downloading all that information again; instead, it will be able to pull it from the cache. The cache data that saves your web browsing activity is called Browser Cache.
However, it's essential to clear this cached information regularly to keep your data safe and free up disc space. This will certainly help your operating system to run more smoothly.
Why Is It Necessary to Clear Browser Cache on Your Mac?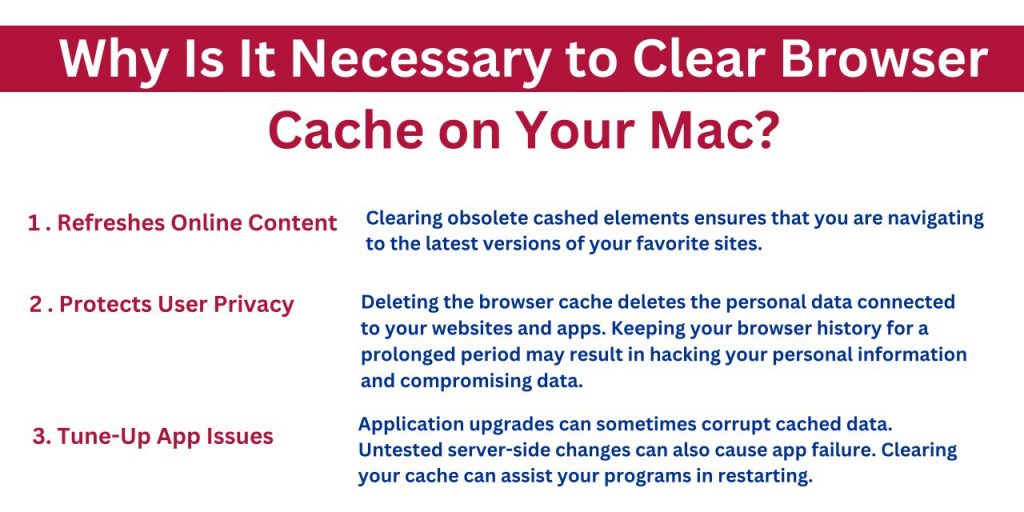 Clearing the cache on your Mac system periodically helps to protect your identity, frees up storage space, removes files you no longer need, and makes your computer's applications run more efficiently.
Consider these benefits of clearing cache files on your Mac:
1 . Refreshes Online Content
Clearing obsolete cashed elements ensures that you are navigating to the latest versions of your favorite sites.
2 . Protects User Privacy
Deleting the browser cache deletes the personal data connected to your websites and apps. Keeping your browser history for a prolonged period may result in hacking your personal information and compromising data.
3. Tune-Up App Issues
Application upgrades can sometimes corrupt cached data. Untested server-side changes can also cause app failure. Clearing your cache can assist your programs in restarting.
Easy Methods How to Clear Cache And Cookies on mac
Looking to clean up your Mac Browser or fix some issues you are experiencing with websites? Regardless of your browser, clearing your browser cache on Mac is pretty straightforward, including third-party browsers like Chrome and Firefox. Here are the complete steps to Clear Cache, Cookies, and History in Google Chrome, Safari, and Firefox.
Whether you want to do some regular cleaning or have some issues while browsing that you want to clear up, you can follow the instructions to clear your browser cache from your Mac device safely.
1. Learn How to Clear Safari Cache on mac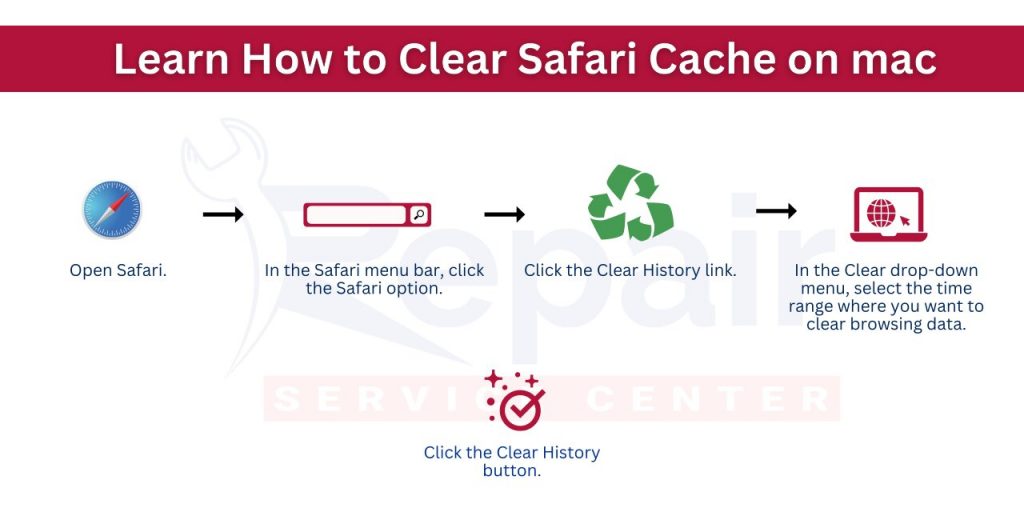 Clear your browsing history in Safari on Mac
Safari is pretty hard for the rest of the browsers. This is how you can clean your cache, cookies, and history from Safari on your Mac laptop:
Open Safari.
In the Safari menu bar, click the Safari option.
Click the Clear History link.
In the Clear drop-down menu, select the time range where you want to clear browsing data.
Click the Clear History button.
Explanation:
Go to Safari browser, double-click on the "Safari Menu" in your drop-down menu bar, and select "Preferences".
Navigate to the "Advanced tab".
Check the Show Develop menu box in the menu bar and close out your Preferences window.
Return to the menu bar.
Go to the "Develop Menu" and select "Empty Caches" or use the shortcut command "Option-E".
2. Learn How to Clear Cache in Google Chrome Browser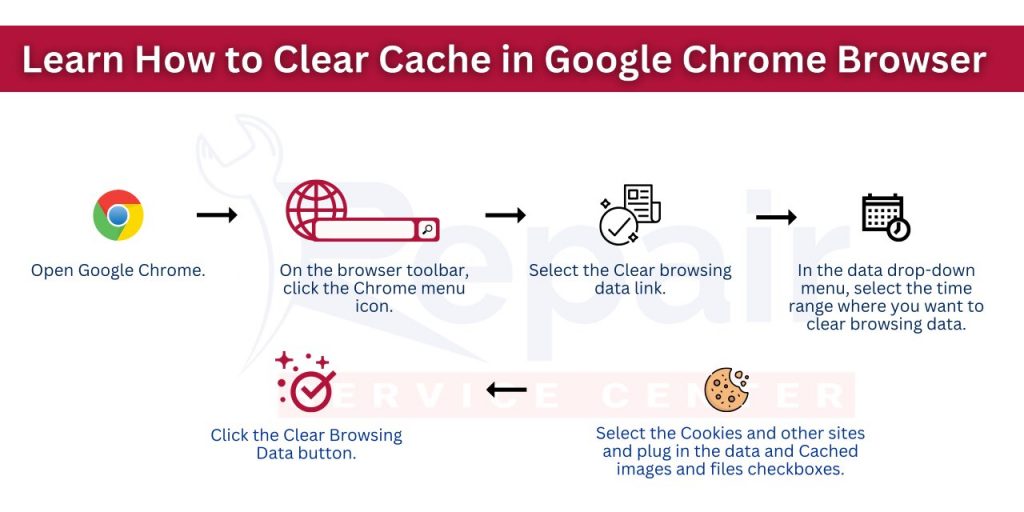 For all Google Chrome users, here is how you can clean your cache, cookies, and history on your Mac laptop for Google Chrome:
Open Google Chrome.
On the browser toolbar, click the Chrome menu icon.
Select the Clear browsing data link.
In the data drop-down menu, select the time range where you want to clear browsing data.
Select the Cookies and other sites and plug in the data and Cached images and files checkboxes.
Click the Clear Browsing Data button.
Explanation:
Open Chrome and click on the three vertical dots in the upper right-hand corner.
After that, choose "Settings", then click on "Privacy and Security" on the left side of your screen.
To continue, click "Clear Browsing Data".
Choose the time range from the options – last hour, last 24 hours, last seven days, last four weeks, or All time.
To clear data, ensure the browsing history check box, cached image, and files box are selected.
Note: To avoid the accumulation of cached files in Chrome, you can prefer using Incognito Mode for web surfing. But it will require you to open a private window every time you navigate anywhere, so it is not the perfect solution.
All Firefox users can clean their cache, cookies, and history on their Mac laptop as follows: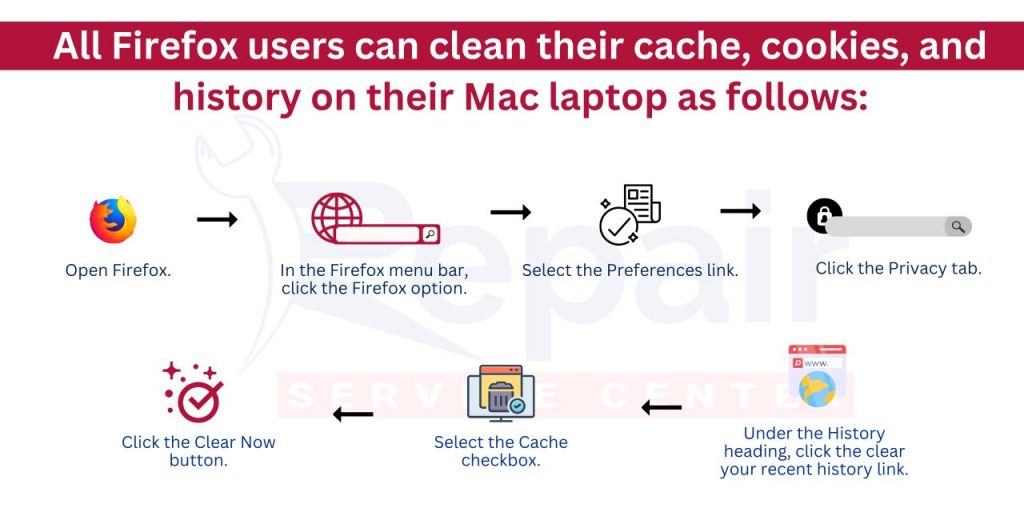 Open Firefox.
In the Firefox menu bar, click the Firefox option.
Select the Preferences link.
Click the Privacy tab.
Under the History heading, click the clear your recent history link.
Select the Cache checkbox.
Click the Clear Now button.
Explanation:
In the browser "History Tab", click on "Clear Recent History".
Choose from the time range and double-click the box next to the cache.
To finish, click on "OK" in the bottom right corner.
Is It Safe to Clean Browser Cache Files on Mac?
Undoubtedly, clearing Mac's cache is plain sailing, especially the browser cache. Often clearing your browser cache helps in protecting your online privacy and helps your Mac work faster. If your browser is running sluggishly, deleting the cache is the best option for a seamless browsing experience.
Additionally, if you want to uninstall apps and remove junk files on your Mac system, clearing the cache will help you make space on your system.
Always use a good Antivirus and software cleaners to tune up your system. Antivirus thoroughly scans your device, clears unnecessary files and system junk, and makes your Mac run like new.
Enjoy Lightening Fast Mac! – Hire Repair Service Center for your Cache Management
Depending on your computer, laptop, and web browser, clearing cache may differ accordingly. Clearing your cache will not only increase your device's performance but will extend its life too. However, the process can be tedious because it requires you to look through numerous procedures.
Getting in touch with experts at Repair Service Center USA to ask How to Clear Cache and Cookies On Mac and system optimization will help you quickly wipe away other unnecessary files and data hiding in your system so you can get back to a faster, lighter Mac. For more troubleshooting tips and advice, contact your nearest Service Center.
How do you like this information? Share your thoughts in the comments section. If you need any more information regarding this topic, you are free to ask any questions down there.
Read More:-
Apple iPhone 14 Series Technical Specifications
Apple Watch Series 8
Q.1. How do I clear my browser cache on a Mac?
Ans. Open "Safari" >Go to Menu bar > Click Clear History > Select the Time Period > Select Clear History. These steps will help you to clear your Safari history, cookies, and cache as well.
Q.2. Should you clear cache on Mac?
Ans. Too many caches on your Mac will result in slow speed and hogging disk space. Mac can also behave unpredictably when data on the cache become corrupted. Furthermore, cache data also contains your private information, keeping which can result in misuse.
Q.3. How do I clear my cache and make it faster Mac?
Ans. You should cache your Mac's cache periodically to optimize its performance. Let's do it:
With the finder window open, press shift + command + G. Files and folders containing Mac's cached files will be shown.
Now select the folders by pressing the command + A and delete all the selected folders by pressing the command + delete.
Q.4. Does clearing the cache delete passwords?
Ans. Yes, clearing your cache can clear your saved passwords in your browser as well.
Q.5. What happens when you delete the cache on Mac?
Ans. Deleting your browser's cache results in hiding your online activity, protecting your privacy, and speeding up your browsing experience.
Q.6. Is it good to clear cookies on a Mac?
Ans. For privacy reasons, speed up the browser, and ease of access, clearing cookies and cache occasionally from your web browser is important.
Q.7. How do I clear my browser's cache?
Ans. Go to your "Browser" (it can be any from Chrome, Firefox, or Safari) and select "Clear Browsing Data" and click on "All Time".
Q.8. What does clearing the cache mean?
Ans. Clearing cache files fixes problems like loading or formatting issues on sites, frees up storage space, and gets rid of data that has been stored from the websites and apps you visit on your device.
Q.9. How do I find caches on my Mac?
Ans. You can find caches on your Mac in the Activity Monitor App. Another method to look for cache files is to choose Apple Menu > then, System Preferences > then, Click Sharing > and finally, Select Content Coaching.
Q.10. How do I clean junk files from my Mac?
Ans. There are four ways to clean junk files on your mac – Clean Cache and Temporary Files, Clear Log Files, Removed Unused languages, and use Clean Up Tools.
Q.11. How do you clean a Mac?
Ans. Remove cache, uninstall apps you don't use, remove duplicate files, empty the trash, reduce clutter, delete large old files, wipe out language files, delete old DMGs, tidy up your desktop, and sort your downloads folders. These are some easy and quick ways to clean up your Mac.
Q.12. How do I clear cookies and cache in Chrome on a Mac?
Ans. Follow the steps as explained: Open Chrome > Click More at the Top Right > Click More Tools > Clear Browsing Data > Choose a Time Range > Select All Time to delete everything > Check the boxes next to "Cookies and other site data" and "Cached images and files" > Click on Clear Data.
Q.13. What is a cache on Mac?
Ans. Cache files are scripts, images, temporary files, and other data that are left on your Mac after visiting a website or using an app, or it simply refers to the areas where computers temporarily store data that they will most likely need again soon.
Q.14. How do I view Safari cache on Mac?
Ans. To access the Site Cache Storage in Safari iOS, go to Settings on your iOS device and then scroll down to Safari Browser. Users must then navigate to the advanced menu and select Website Data to view the storage Details.
Q.15. How often should I clear my cache?
Ans. If you are using a public computer, you should clean your data or browsing history right after the session. And, if you are working on your personal computer, you can remove all cache and cookies at least once a month to keep your device neat.
Q.16. What happens if you delete the cache?
Ans. Clearing cache is a quick and easier way to simply clear temporary files and free up space.
Q.17. Is it safe to delete cache files?
Ans. The data caches are simply junk files that can be securely erased to clear up storage space.