HP Plus is the "Cloud-Based Smart Printing System" that makes your printer smarter with cutting-edge features, automatic updates, enhanced security, and more intelligence than ever.
HP Plus is an optional service for some HP printers that offers a host of features to users that choose to enable it during the printer setup. With advanced features, automatic updates, and enhanced security, HP+ is a free upgrade that revamps your printer and makes it even more innovative.
Let us see the exclusive benefits offered by HP Plus to its users free of cost:
Advance Smart features.
Hassle-free and easy Ink delivery and recycling with a low monthly cost.
New native in OS printing allows printing virtually from any location at any time on any device.
Two years of extended warranty at no additional cost.
A flexible plan that can be canceled at any time.
Extra security updates and monitoring that detect and mitigate malware attacks.
The new Private Pickup feature releases documents only when you are at the printer.
A premium cloud-connected solution automatically detects and fixes connectivity issues.
A complimentary 6-month instant ink subscription service ensures quick delivery of new Ink or Toner at your doorstep before you run out of it.
Every page printed with HP+ is balanced with investments to help protect and restore forests in equal measure.
By signing up for HP Plus, you can avail its underneath benefits. Other features you get with HP Plus are – Smart Dashboard in the cloud to manage the printer, security monitoring features, a cloud resiliency capability, and 2 years of Smart Advance access.
Let us now dive deep to understand what the HP Plus printing solution is all about.
More About HP Plus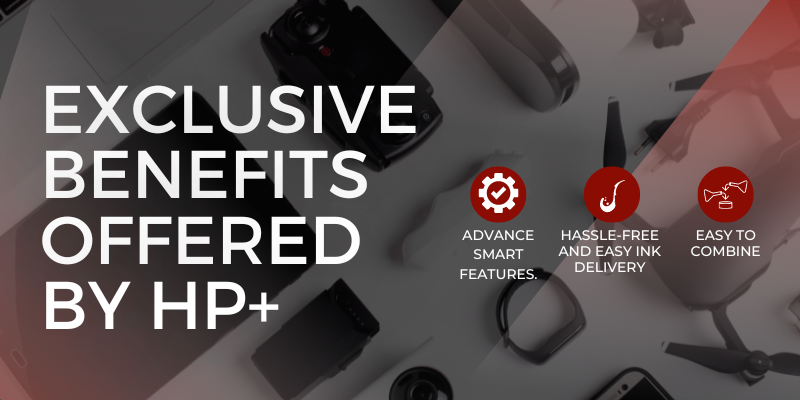 HP+ is not a cost-based extended warranty, nor is it a subscription service. It is a cloud-based printing solution embedded in select Hewlett-Packard printers. You can select HP Plus-enabled printers at the time of your printer purchase.
The recent introduction of the HP+ Smart Printing System by HP signifies a significant change in printing technology. It offers a comprehensive new printing solution that comes free with selected models of HP OfficeJet, ENVY, and HP LaserJet printers. It is currently available on HP DeskJet 2000, 4000 series, ENVY 6000 series, OfficeJet Pro 8000, 9000 series, and HP LaserJet M200 series printers. HP+ eligible printers have "e" at the end of the product code. However, if this program is a success, HP will undoubtedly expand its line of HP+ compatible printers in the future.
Enrolling in HP Plus (+) gives access to a variety of benefits, such as low-cost ink or toner at up to 50% off, auto-replenishment and recycling, thus shrinking your environmental footprint, free ink for the first 6 months, and an added year of warranty protection at no additional cost. Moreover, enabling HP+ facilitates easy access to Google Drive, Dropbox, and other file storage options.
You only need an ongoing Internet Connection and an HP account to use this facility during setup. However, HP+ will only function with Genuine HP Ink or Toner cartridges to operate for the printer's life, even after the expiration of the 6-months instant ink offer.
How can I activate HP+ Service?
Make sure the printer you buy has HP+ support before you activate it. When you purchase a Laser printer, the HP+ service has to be enabled during the Hp printer setup. However, if you buy an InkJet printer, you will have the option not to sign up or use it during the printer setup.
Is it wise to Choose HP+ Smart Printing?
We have broken down the differences between the HP printers having an HP+ plan and the printer without an HP+ plan activated to give our users a thorough understanding of making the decision to choose the HP+ Smart Printing Solution: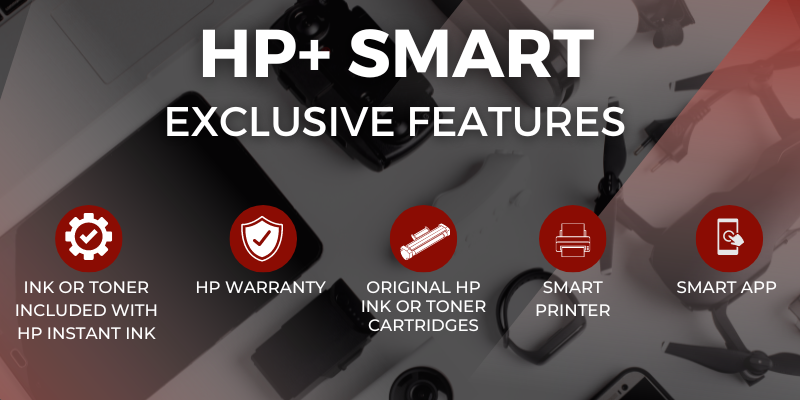 Exclusive Features
With HP+
Without HP+
Ink or Toner included with HP Instant Ink
6 months
N/A
HP Warranty
2 years
1 Year
Original HP Ink or Toner Cartridges
Required to operate
Recommended
HP+ Requirements
HP Account
Internet Connection
Use of Original HP Ink or Toner
–
Smart Printer
Intelligent, cloud-based connectivity and security
–
Smart Ink Subscription
6 months of Instant Ink included
(After 6 months a monthly fee will be charged unless canceled)
Instant Ink ready
Smart App
Advanced HP Smart App solution included for 24 months
Standard HP Smart App
Smart Sustainability
Forest First Printing
Cartridge Recycling with Instant Ink
Cartridge Recycling with Instant Ink
Therefore, signing up for HP+ will undoubtedly increase the productivity and security of your printer. When working remotely or at home, the smart features built into it will safeguard your print jobs and shift printer resources to save cost and energy.
How can you link HP+ to HP Instant Ink?
HP+ can be linked to HP Instant Ink when purchasing an HP Plus enabled printer. Connecting both will give you six free months of the subscription service, only if you install the printer for HP Plus. Whether you install the printer as an HP Plus device or not, certain printers also come with a separate, introductory Instant Ink membership that is valid for a certain period.
List of HP+ Enabled Printers currently available in the Market
Are you searching for the top HP+ compatible printers for your home or office? Availing of the privilege of HP+ is as easy as owning an HP printer. HP has only a small assortment of HP+ printers, including InkJet printers – DeskJet, Envy, and OfficeJet series and LaserJet printers starting from the LaserJet M200 series.
The following HP printer models are compatible with HP+ plans:
HP LaserJet M110we Black & White Printer
The HP LaserJet M110we is the smallest laser printer in its class and has HP+ for proper functioning. This stylish black-and-white printer is ideal for business individuals who work from home and have little space for an office. You may receive high-quality scanning with HP Smart App and share it to Dropbox, Google Drive, or email from almost anywhere.
HP OfficeJet Pro 9025e All-in-One Printer
The HP OfficeJet 9025e All-in-One Printer is a midrange printer type that can print attractive text and images for a reasonable cost per page. Small offices with appropriate copy and print demands will do well with this small business printer. It has two big 250-sheet paper drawers that can handle up to 500 sheets of paper, and its automated document feeder (ADF) automatically scans, copies, and faxes stacks of two-sided documents.
HP LaserJet MFP M234dwe Printer
An entry-level monochrome all-in-one printer for usage in small to medium-sized offices is the HP LaserJet MFP M234dwe. You may print quickly, print precisely on both sides, scan, and copy with this printer. Additionally, HP+ keeps itself secure, up-to-date, and ready to print at any time from virtually anywhere when it is active.
HP OfficeJet Pro 8025e All-in-One Printer
A mediocre printer appropriate for tiny or home workplaces is the HP OfficeJet Pro 8025e. It generates passable-looking images with acceptable color accuracy. It comes with the optional HP+ Smart Printing System, which is always secure, up-to-date, and prepared to print from anywhere at any time.
HP Envy Inspire 7255e Wireless All-in-One Photo Printer
Home offices can use the HP ENVY Inspire 7255e All-in-One InkJet Printer. It has an integrated photo tray, accepts most standard photo sizes, and produces seamless, high-quality images and documents. It offers the ability to print two-sided 4″x6″ photos with a personalized message.
HP OfficeJet Pro 8035e All-in-One Printer
The HP OfficeJet Pro 8035e All-in-One Printer offers capable printing, copying, scanning, and faxing features. It prints through the cloud from virtually anywhere using practically any device, and if you use HP+, it includes a 12-month supply of free ink. You can print using Wi-Fi or Wi-Fi Direct if you're close to the OfficeJet Pro.
HP OfficeJet Pro 9025e All-in-One Printer
The HP OfficeJet Pro 9015e All-in-One Printer is a fantastic deal since it produces high-quality output at a low cost per page, making it ideal for micro offices and small workgroups with light- to medium-duty copy and print volume requirements. It includes a 35-sheet auto-duplexing automatic document feeder (ADF) that allows users to copy, scan, and fax two-sided multipage originals without manually handling them.
HP Envy 6455e Wireless All-in-One Printer
The HP Envy 6455e All-in-One Printer is a good bargain for a light workload in homes and home offices since it blends in effortlessly is inexpensive to buy and use, and has relatively little print and copy needs. Receipts, tax returns, and pictures can all be digitally converted using its high-resolution flatbed and ADF functions.
For the simplicity of printing with contemporary features, look no further than HP's line of printers if you're seeking the best-in-class HP+ enabled printer for your home or office use.
What is HP Smart Advance?
Customers with HP+ enabled printers are offered HP Smart Advance access for free. Regardless of the activation of the HP+ facility on their printer, they will receive a 24-month trial of HP Smart Advance. The company will automatically send a push message after 1 year and 11 months notifying users that the free trial has ended and giving them the option to continue by paying a monthly charge.
Users of Smart Advance can take advantage of a wide range of useful features, such as multi-item scanning, book scanning with automatic image correction, quick saving of all scanned pages into a single file, removal of distracting marks like hole punches via auto-heal, and use of OCR to save scans as searchable PDF, TXT, and DOCX files.
About the Forest First Framework of HP+
With an aim to zero-deforestation prints, HP's long-time commitment to environmental sustainability through its pledge to plant new trees and recycle used printer cartridges is remarkable. Forest First includes multiple NGO partnerships with organizations that help promote responsible forest management by forcing them toward a positive forest posture.
HP+ Pricing Policy
The greatest feature of HP+ is that it is free when you buy a supported model of HP OfficeJet or HP LaserJet printers, so if you are concerned about the expense of signing up for plans, don't be. Other than the printer's initial cost, there are no further fees directly related to HP Plus.
How to Cancel HP+ Service?
HP+ offers free changes, pauses, and cancellations at any time if you decide you aren't satisfied with it. Customers who prefer an HP LaserJet M200 series printer without HP+ can purchase the standard version. For HP OfficeJet Pro 8000e and 9000e Series printers, DeskJet 2700e and 4100e Series, and ENVY 6000e and 6400e Series, customers can skip HP+ activation during the printer setup.
Final Words
The printing industry has undergone a change due to the advent of HP+ technology, which has enabled customers to stay better connected and more secure while printing. The one thing you must follow to take full advantage of HP+ features is that you should only use Original HP Ink cartridges. The benefits from HP+ won't work with non-HP ink cartridges or toner.
FAQs Of Hp+
Q1. What is HP+?
Ans. HP+ is the free upgrade available during the printer setup combining innovative print hardware, optional instant ink subscription service, and exclusive HP Smart app features that deliver a seamless and sustainable printing experience for users using Original HP Ink or Toner.
Q2. How do I get HP+?
Ans. Buy a printer that supports HP+. During printer setup, verify or activate HP+. Within seven days of installing the printer, sign up for a free 6-month trial of HP Instant Ink.
Q3. What are the requirements of HP+?
Ans. HP+ requires an HP account, an internet connection, and the use of Original HP Ink or Toner for the printer's life.
Q4. Are there costs associated with HP+?
Ans. There are no further costs specifically related to HP+ other than the printer's initial purchase price.
Q5. What is HP standard?
Ans. HP standard printers are printers without the perks of HP+. However, HP standard printers use dynamic security that may be updated occasionally by firmware updates. These printers are meant to be used only with the original HP chip or circuitry.
Q6. Is HP+ a subscription?
Ans. No.HP+ is a smart printing solution that offers a range of benefits to its users including 6 months of Instant Ink, a 2-year extended HP warranty, premium features in the HP Smart app, and more.
Q7. Do I have to maintain an Instant Ink subscription for HP+ to continue working?
Ans. No. Customers can participate in Instant Ink, which offers more convenience and up to 50% cost savings. Even when the Instant Ink trial has ended, HP+ printers need Original HP Ink or Toner to function.
Q8. Can I Cancel my HP+ subscription if I don't like it?
Ans. Yes. You can change, pause or cancel your HP+ plan anytime if unsatisfied.
Q9. How to contact Hp Service Center?
Ans. Visit this link for all Hp Service center lists in the US, CA, and the UK.